Gayle Harris & Maddie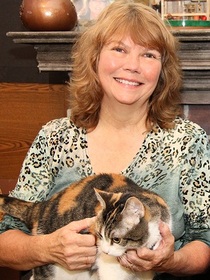 Books and Crannies is owned by Ron & Gayle Harris. Gayle manages the store and is there Monday, Tuesday, Wednesday and Saturday. On Fridays, she works at Silhouette Resale Boutique, a ladies upscale consignment shop which is located inside the Iris Theatre Building along with Books and Crannies. Gayle is a proud native Texan who grew up in Montague, Texas and attended Nocona High School and Dallas Baptist College. Her favorite authors include Dean Koontz, Brad Parks, Shirley Rousseau Murphy, J.R. Ward, Linda Castillo and Robert B. Parker.To contact Gayle, either call the store during her days there, or email her at books209@yahoo.com. She is always interested in hearing from customers.

Ron is a retired Dallas Firefighter, and owns his own Aerobic Septic System Inspection business. He is a very eclectic reader who always has a book in his hands, and although his favorite authors change occasionally, he does enjoy especially Taylor Anderson, Robert Heinlein, Dean Koontz, Dean Ing, Pat Frank, Larry McMurtry, Gary Paulsen, John Dunning and many others too numerous to list!





---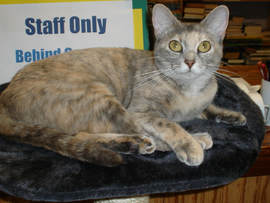 Mollie is our bookstore kitty. She came to us from the Mesquite Animal Shelter in July 2017.
She has already learned that when she hears the door bell 'ding' someone is about to come in to pet her! She is very playful and loves to play hide and seek with me in the bookshelves. She is starting to go find customers to 'help' them make their selections.
Did you know that the custom of having cats in bookstores dates back to ancient Egypt when cats were used to keep rats and mice from eating away at the precious papyrus rolls that contained text.
And in 1745, a special decree was issued by Empress Elizabeth of Russia. She was looking for "the best and biggest cats, capable of catching mice" to be sent to the Hermitage Museum in St. Petersburg to protect the treasures contained within from rats. Incidentally this tradition still lives on today.
Of course today, the kitties are there more for company. But Mollie will be happy to meet you, so stop by and see her soon!

---




In Memoriam:

Maddie was our resident kitty - having moved to Texas following Hurricane Katrina in 2005. We adopted her from Operation Kindness in Carrollton. She was an amazing cat, and had a very happy life as official greeter at Books and Crannies. She loved helping our customers make selections or keep them company as they shopped. She had a very big fan club and a lot of friends, and it broke our heart to lose her.

---