The Iris Theatre
Our theatre seats 34 people, with the option of adding folding chairs. It is available to rent for your event. We have the ability to show DVD and VHS video, as well as Power Point presentations. Schedule a business presentation, a party, a private movie showing, etc. Call for information and rates - 972/563-5481. We have hosted many private movie nights for birthdays, holidays, engagement parties, etc.

Our 16 foot movie screen brings classic movies back to 'the big screen' for our patrons on the second and fourth Friday nights of each month (unless a live performance is scheduled). See below for our movie schedule. Admission to the movies is free, and we have Cokes and Popcorn. Tips are greatly appreciated and are used to provide refreshments, and to make improvements to the facility.

The neon "Iris" sign is a beacon in downtown reminding us of days gone by. Movies start at 7:00, and the front doors are open from about 6:40 till 7:00 when we lock the doors so we can watch the movies too! Join us for Friday night movies and relive the golden era of Hollywood with Bogie, Bacall, Stewart, Hepburn, Wayne and many more favorites! Make a night of it by dining at Dos Aces across the street from the Iris!






---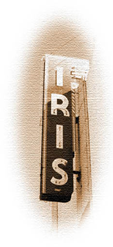 Movie Schedule at the Iris
Second and Fourth Friday nights of each month - Movie begins at 7:00 - Free Admission
(Unless the Vagabond Players are performing Live Theatre on our stage)
Cokes and Popcorn available - DONATIONS APPRECIATED!

Jan 26: "Casablanca" (1943) 75th Anniversary
Humphrey Bogart, Ingrid Bergman, Paul Henreid, Peter Lorre
Feb 9: "San Francisco" (1936) Clark Gable, Jeanette MacDonald
Feb 23: DOUBLE FEATURE "Jinx Money"/"Jalopy" The Bowery Boys (1948 & 1953)
(2 short films - each about an hour long)
Mar 9: "Deception" (1946) Bette Davis, Paul Henreid, Claude Rains
Mar 23: "Born Yesterday" (1950) Judy Holliday, Broderick Crawford, Wm Holden
Apr 13: LIVE Theatre - Vagabonds present "Doublewide, Tx" Tickets $15.00
(See the Vagabond Players Page for more information on the live performances)
Apr 27: "Young Man with a Horn" (1949) Kirk Douglas, Lauren Bacall
May 11: "Theodora Goes Wild" (19436 Irene Dunne, Melvyn Douglas


---